Activate your immune system - your lymphatic system!

Did you know that you have more lymph than blood and more lymphatic vessels than blood vessels?

Learn how simple, easy, and fun bouncing activates lymph flow to support weight loss and heal your body!
---
Bounce Back Fitness Chair
Very gentle - Zero Impact!
In 1976, Dr. C. Samuel West, was the first person in the world to ever teach that bouncing up and down activates lymphatics. He coined the phrase, Don't just exercise, Lymphasize!"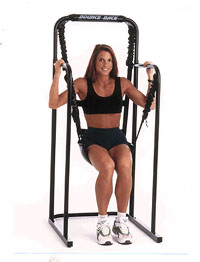 Features
•Highest Strength, Welded Tubular Steel Frame Construction.
•Available frame color for frame is Charcoal.
•Parachute Strength, Double-Sewn Nylon Harness.
•Safety Covers of Naugahyde for Frame, Springs and Seat.
•Optional Expandable or Hard Seat - add $25.
•Custom designed, Highest Strength Steel Alloy Springs Rated for 10 Million Bounces.
•Regular springs handle up to 250 lbs.
•Optional Heavy Weight Springs for $50 - handle up to 350 (not recommended for those under 200 lbs).
•Optional Extra Heavy Weight Springs for $75 - handle up to 450 (not recommended for those under 300 lbs).
•Instructional DVD video included.
•Easy assembly.
•Adjustable for different heights.
•Dimentions are 72" Wide X 36" Deep X 66" High.
Starting at $499.00 - (FREE shipping - Reg. $50!)
Includes: Regular Springs, Sling Seat & DVD

Order Your Bounce Back Fitness Chair NOW!
We will match any honest offer.
---

Use of this site is governed by our Terms of Service. We do not provide medical advice, diagnosis, or treatment. The material on this website is provided for educational purposes only. *See additional information.
Copyright © Clarity University 1981-2012 - All Rights Reserved